March 6- Last night I was sure we were going to die. My flight from New York was only a little shaky on take off and landing. Memphis airport was intimate and oppressively humid, and our flight to Montgomery, Alabama was delayed and overbooked, but boarding was reminiscent of Casablanca, the windy airstrip, the old fashioned way. Walking up the stairs while someone held the propeller... Once we were airborne, the rain and wind pummeled us and made the plane dive several times, the lights off the wings reflected red bursts that I thought made the engine look like it was on fire, lightning cracked all around us and the guy in front of me was like the voice of doom. "You know, even if we make it to Montgomery, we cant see the other planes that are trying to land, we'll probably crash" he said. Happily, he was wrong. The hotel is OK, I slept like a rock, except once waking up to shut the window around 4am, because it was raining. Later I found out it was actually a TORNADO and surprise, this is tornado season in this part of the country. I was surprised that no one had mentioned that this was tornado season BEFORE I left happy, freezing New York, until I realized that people in this part of the country just take it in stride. It's like the people in California who think nothing of earthquakes. Everyone here mentions how horrible the weather is in New York, but hey, I would take a snowstorm over a tornado any day. This morning was all about packing the car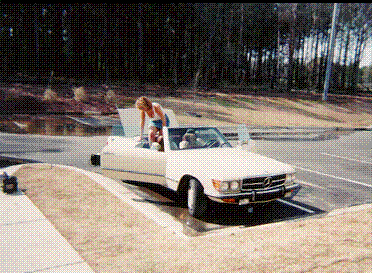 and finding our way around until the afternoon, when we had found everything. We got some nice shots around the capitol, which is really pretty stunning. Everyone is very proud of the Confederacy, but I was more interested in the Civil Rights movement events that took place here. I wonder how much of a coincidence it really is that the church where Martin Luther King was pastor is nearly across the street from the capitol building. There are a lot of magnificent, well-lit buildings and monuments, but both the Southern Poverty Law Center and the Dexter Avenue Martin Luther King memorial church, although well kept, are not lit at all. In fact, the church isnt even listed in the phone book. Although dwarfed by the other impressive buildings, they are still the major attractions. Everywhere we went, our cameras caused major problems. We were thrown out of a grocery store, and we were just shopping, not shooting. No photography is allowed in the church and armed guards made sure we moved along in front of the SPLC. I am not too fond of guns, but they were pretty nice about it. The one guard is actually a reverend himself, and he invited us to come hear him preach.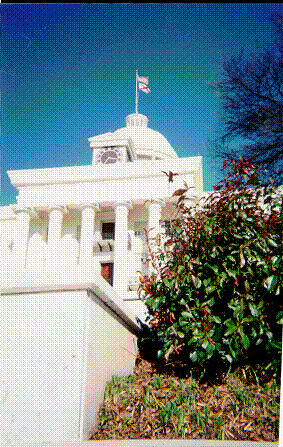 There is a lot I do not understand about the south.