Fixit2006-Mick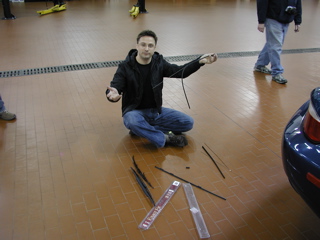 Jon Trudel's pic-078
Mick reminds us to change our wiper blade every time you change your clocks for Daylight Savings (every 6 months).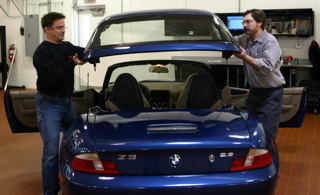 Dave Todd's pic -157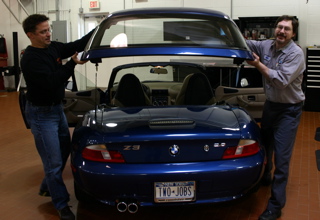 Dave Todd's pic -158

Mick writes: The ride home was awesome...it was nice to feel like my baby was a little closer to "like new"...a few less scratches...a few less dents...a few less rattles...a lot more smiles! I learned that Fixit Days are really mandatory in order to keep the car in it's pampered condition...I don't know how I'd ever get by without them. Mike was my tech and he was just the kind of guy I'd want working on my car...attentive and meticulous. I wish he worked in New York! Okay, in the end, here's what I had done:
1. Driver seat bushings replaced with Whalen bushings (seat rocking fix)
2. Wheels repaired and painted (I'm a fiend for meticulous wheels)
3. Tires rotated and balanced
4. Passenger door had NINE dings removed!
5. Hardtop was refitted...a near success
6. Brake light was fixed (still need a socket though, none were in stock)
7. Armrest lid was repaired (broken o-ring)
8. New windshield wipers put on
What I didn't have done was my Monster iCruise install, no thanks to Fed Ex. What I would LOVE is to hear feedback from those who are now using it so I can know what the pros and cons are before I take the plunge.
Well, I also took NO pictures this year...as the camera sat on the kitchen counter. Oh well.
Mick
addendum: A few weeks later it rained very heavily and Mick got stuck.Even though he already had the Dinan CAI "sock" his car suffered hydrolock.